Our Facility
From Yoga, Zumba and a Private Women's Area.. to Free-Weights, Squat Racks and Personal Trainers…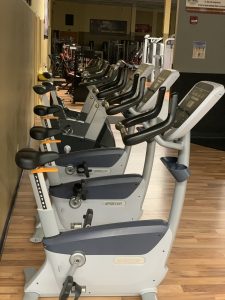 Global Health and Fitness Gym has over 250 exercise machines and is a great place to workout and get fit for people of all ages. During the mornings and afternoons the middle aged and the older population fills the gym, but by the evening time the competitive and professional athletes start coming around to get their workouts done. No matter whether you are just getting back in shape, or are starting out in the gym for the first time, this fitness center is a comfortable and convenient place to exercise. All people are treated with respect and dignity here, regardless of age, level of buffness, orientation, or ethnicity. Global Health and Fitness Gym has been around for decades and is an amazing mix of all ages and body types, where everyone is there to motivate each other to achieve their [individualized] fitness goals.
Facility Highlights:
– 24,000 sq.ft Gym
– Private Womens Only Workout Room
– Large Free-Weight Areas (Separate from Main Area)
– Large Main Cardio and Machine Area
– Aerobics Room
– Nursery
– Tanning Salon
– Massage Therapy
– Certified Professional Personal Trainers
Whether you are looking to workout with cardio equipment, machines and/or freeweights, or just interested in our wide variety of our high energy aerobics classes Global Health and Fitness Gym has something to offer anyone who wants to get fit, and stay healthy. We have a full lineup of over 20 different classes, just ask the front desk or check our online schedule.
Our Free-Weight Area

Strongman, Bodybuilding, Powerlifting or Physique Competitors… We have all the tools for your trade!
If you are seeking to become a highly ranked professional figure, physique, or bodybuilding competitor – you're in the right place! We cover the full spectrum of personal training routines anywhere from the middle-aged population who need basic conditioning, strength, stability, and fat-loss to competitive athletes getting ready for school sports and professional athletic and fitness modeling careers. As well for people that fall in between these two groups, who just want to look good and feel great!
Cardiovascular Machines – 114 Cardio Machines
25 Treadmills
32 Elyptical machines
35 Spinning cycles
10 Recumbant bicycles
9 Upright bicycles
3 Vertical Steppers
Indoor 100 meter track
General Freeweight Equipment:
5 lbs. to 200 lbs. [Freeweight] dumbells
30 lbs. to 120 lbs. [Freeweight] barbell rack
6 lbs. to 12 lbs. Medicine balls
6 lbs. to 12 lbs. Weighted "challenge" bars
2 lbs. to 15 lbs. aerobic room dumbells*
* Plenty of duplicates in the 15 lbs. (and under) dumbell weight range available in the aerobics room.
Chest Equipment – 34 Chest Machines
7 Chest machines [selectorized]
6 Barbell bench presses
5 [Freeweight] flat benches
5 [Freeweight] incline benches
5 [Plate loaded] chest machines
2 Inner pec machines [selectorized]
4 Double cable cross machines
1 Rotating wrist pushup
Back Equipment – 17 Back Machines
3 Back row cable machines [selectorized]
3 Lat pulldown cable machines [selectorized]
3 [Plate loaded] back machines
4 Back row machines [selectorized]
4 Back extension machines [selectorized]
Shoulder Equipment – 16 Shoulder Machines
4 Shoulder press machines [selectorized]
3 [Freeweight] shoulder press chairs
3 Posterior deltoid machines [selectorized]
3 Rotator cuff machines [selectorized]
1 [Freeweight] barbell military press
1 [Plate loaded] Trapz raise machine
1 Four-way neck machine [selectorized]
Arm Equipment – 12 Arm Machines
4 Tricep dip machines
6 Bicep machines
2 [Freeweight] preacher curls
Core Equipment – 16 Abdominal Machines
Leg Equipment – 31 Leg Machines
4 Leg press machines [selectorized]
3 Smith machines
2 [Freeweight] barbell power racks
2 [Plate loaded] leg Presses
1 [Plate loaded] Hack squat
2 Leg extension machines [selectorized]
4 Hamstring curl machines [selectorized]
2 Glute extension machines [selectorized]
1 Glute and hip machine [selectorized]
3 Hip abductor machines [selectorized]
3 Hip adductor machines [selectorized]
2 [Plate loaded] seated calf machines
2 Standing calf machines [selectorized]
2 donkey calf machines [selectorized]
Private Women's Workout Area – 12+ Women's Exercise Machines
4 Treadmills
3 Elypticals
1 Recumbant bicycle
2 Abdominal Machines
1 Leg extension [seated]
1 Hamstring curl [seated]
Variety of Dumbell Weights
Stretching Balls
Brands of Exercise Equipment
– Life Fitness Pro SE, Special Edition, and Signature
– Hammer Strength
– Cybex
– Flex Performance Systems
– Hoist HD
– Precor
– Schwinn
– Nautilus
If you are confused about how to use any piece of exercise equipment, resistance machines, freeweights, or how to structure your workouts in an ideal sequence to cover specific body parts [or for your unique goals] feel free to talk to one of our personal trainers for answers to any questions that you may have. We help all types of people achieve their personal fitness goals, whether you want to just slim up, reduce chronic pains, have better blood circulation, or improve your posture.
Performing regular exercise has the effect of pro-actively fighting/reducing chronic pain, increasing bone density, and improving the capillarization of body tissues [which helps your circulation, even when you are not physically active]. This is partly why exercise is so important, to keep your body [water] in motion and super-oxygenated by increasing your respiration rate, which is a natural result of a quality exercise program [repeated throughout each week]. The human body is like a river, the more its fluids flow, the less stagnant the waters are, and the more oxygenated and healthy you become in the process.
Call 1-330-372-3601 to get your gym membership started today!